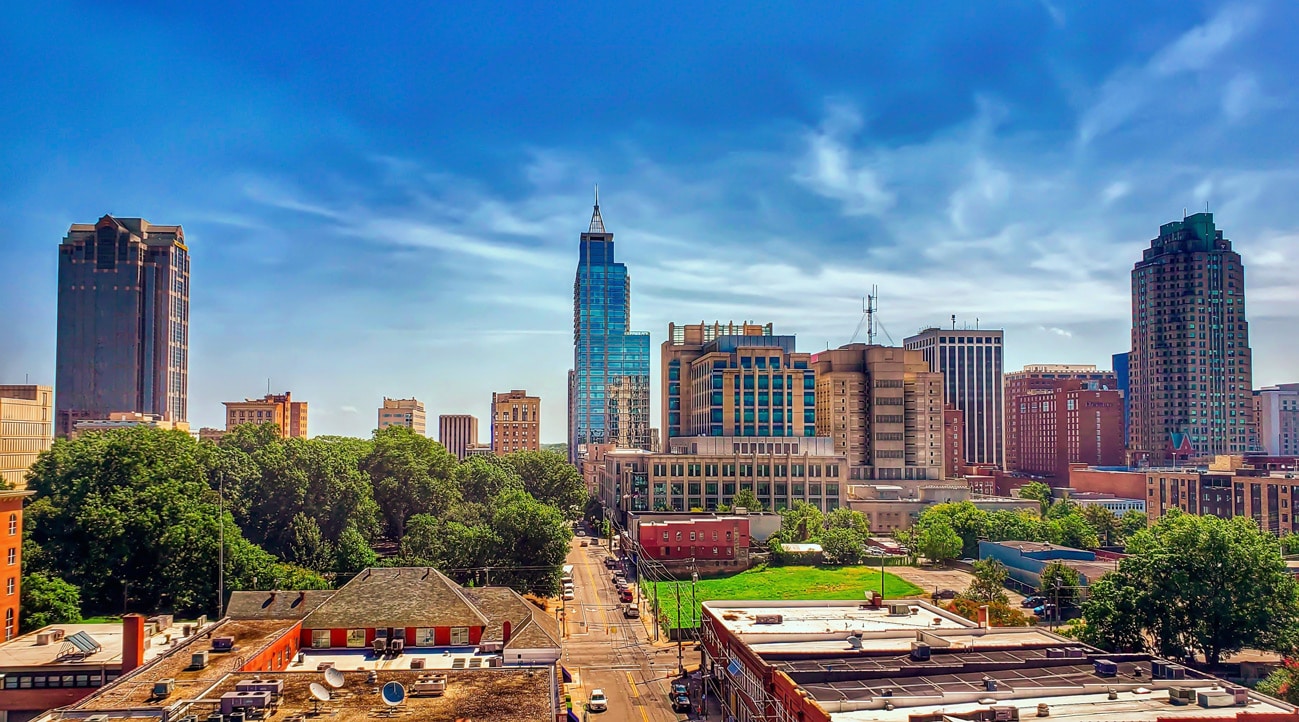 Building a website for a Raleigh audience
Whether you are a nonprofit or business located in Raleigh, NC, having a clear strategy for your new website is key to a successful outcome. CH Web Agency has compiled a list of recommendations for your next web design project as well as insights and data specific to the City of Raleigh to help you create a successful strategy.
Businesses and organizations will find that by understanding their Raleigh-based audience, they will be better equipped for the web design process. Knowing your audience allows you to design your services and products to meet their needs and takes the guesswork out of web design.
User research data on Raleigh, NC residents
User research is the process of gathering data on who will use your website. Here we provide an overview of the demographics of Raleigh, NC residents, including education levels and household incomes. This is an excellent place to start; at CH Web Agency we recommend that you look beyond demographic data to better understand the unique needs of your target audience.
Here we provide an overview of Raleigh, NC residents; including their demographics, education levels, and household incomes.
| | | |
| --- | --- | --- |
| Race | Number | Percentage |
| White (non-Hispanic) | 241,308 | 51.6% |
| Black or African American (non-Hispanic) | 120,480 | 25.76% |
| Native American | 1,094 | 0.23% |
| Asian | 23,444 | 5.01% |
| Pacific Islander | 179 | 0.04% |
| Other/Mixed | 20,646 | 4.41% |
| Hispanic or Latino | 60,514 | 12.94% |
Local data on Raleigh, NC businesses & industries
Here we provide highlights of businesses in Raleigh, NC. You may find this information helpful if your organization provides B2B services.
"Major Employers" with more than 5000 employees in Raleigh according to the Raleigh Chamber of Commerce:
| | |
| --- | --- |
| Employer | Number of Employees |
| Duke University & Duke Health Systems | ​41,206 |
| State of North Carolina | 24,083 |
| Wake County Public School System | 17,000 |
| Walmart | 16,200 |
| University of North Carolina At Chapel Hill | 12,204 |
| WakeMed Health & Hospitals | 9,773 |
| North Carolina State University | 9,019 |
| Food Lion | 8,600 |
| Target Stores | 8,000 |
| IBM (International Business Machines) | 8,000 |
| UNC Rex Healthcare System | 6,900 |
| SAS Institute | 5,567 |
| Harris Teeter | 5,346 |
The team here at CH Web Agency recommends that businesses join their local chamber of commerce. Your chamber of commerce is a valuable resource in growing your business. Your local chamber of commerce will host networking events, offer marketing opportunities, connect businesses in the community, and much more. Their goal is to help you and your community succeed. 
Businesses & Nonprofits in Raleigh
Entrepreneurs, small businesses, and new nonprofits will find Raleigh to be a strategic location to launch a company or grow a movement. Affordability, a growing economy, and a diverse culture make it a prime spot for businesses of any size. 
Corporations & large nonprofits will find Raleigh and the surrounding area filled with a well educated and diverse talent pool. Raleigh's proximity to several universities, and as the capital to North Carolina, has prompted several major corporations to establish new campuses and investments in the community.
A key component to reaching your audience in Raleigh is a solid web design strategy. Taking the time to research Raleigh, NC, while planning your next web design project, will help you determine whether you're in close proximity to your target audience or if you need to market your product or service to the surrounding cities.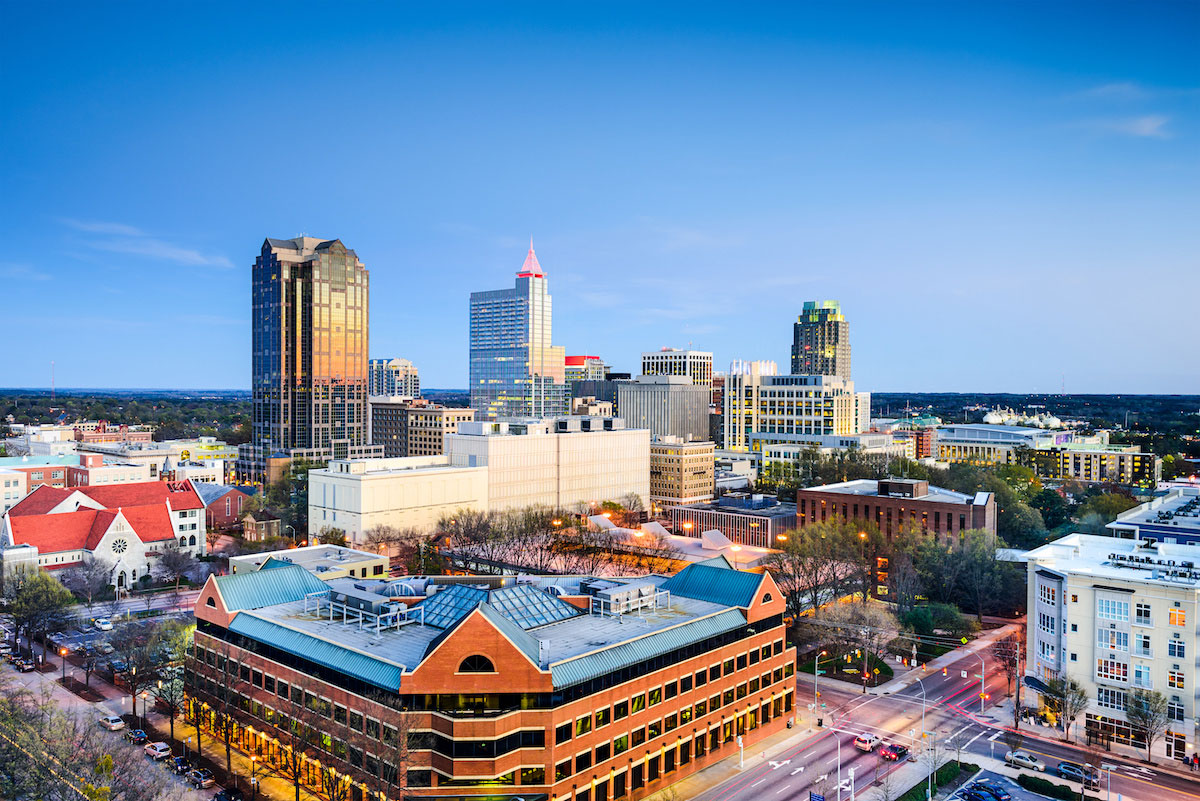 Crafting your web design strategy
Planning a web design & development strategy for a Raleigh-based business is going to be similar to coming up with a plan for other North Carolina-based businesses. Organizations and Businesses in Raleigh will need to focus on the value they provide to their community and how their website can support that value.
Who are your users?

Who are your direct competitors and indirect competitors?

Are you disrupting a problem space or are you shifting strategies to remain competitive?

What products or services does your business offer?

Are you offering both B2B & B2C services?

If you're a nonprofit, what tools will you use to support your advocacy efforts?

Are you primarily targeting Raleigh, NC or are you also targeting other cities in the Research triangle, such as Durham and Chapel Hill.
Local SEO in Raleigh, NC
Businesses & nonprofits looking to target Raleigh for local SEO will find it difficult to gain traction if they are not already established. Raleigh's size and prominence in North Carolina mean it's already highly saturated for many SEO terms. SEO strategists may need to consider using long tail keywords to attract users to newly launched or redesigned websites. It may also be worth looking into targeting nearby cities with smaller markets.
Do I need a web design agency for my Raleigh business or nonprofit?
The capital city of North Carolina, Raleigh, NC is a vibrant metropolis that was named by Thrillist as one of the "Great American Cities for Creatives." Raleigh's population has steadily been growing, with over 464,485 residents as of the 2019 census. Raleigh is also part of arguably North Carolina's most recognizable metropolitan area, the Research Triangle. The Research Triangle features three prominent research universities, NC State, UNC Chapel Hill, and Duke. 
Having such tremendous growth means that businesses and nonprofit organizations looking to set themselves apart in Raleigh will need to take extra measures to ensure their digital strategy and website make the same impact they did just a few years ago.
Web Design agencies like CH Web Agency are critical to launching a successful website. Web Design agencies have a diverse team of talent from designers to developers to make a website that sets your organization apart. An agency will design your website to be local SEO friendly, allowing your services and products to show up when Raleigh residents and businesses conduct searches. Local SEO will become challenging as the metropolitan areas around Raleigh attract big business.