The knowledge, expertise, and determination are not sufficient to run a business in today's world where technology is upgrading, and everything is switching online. For a business to succeed, it is essential to have a strong online presence to get the most visits on their website, customers, and hence revenue. The important key element where they need to invest is in Local SEO.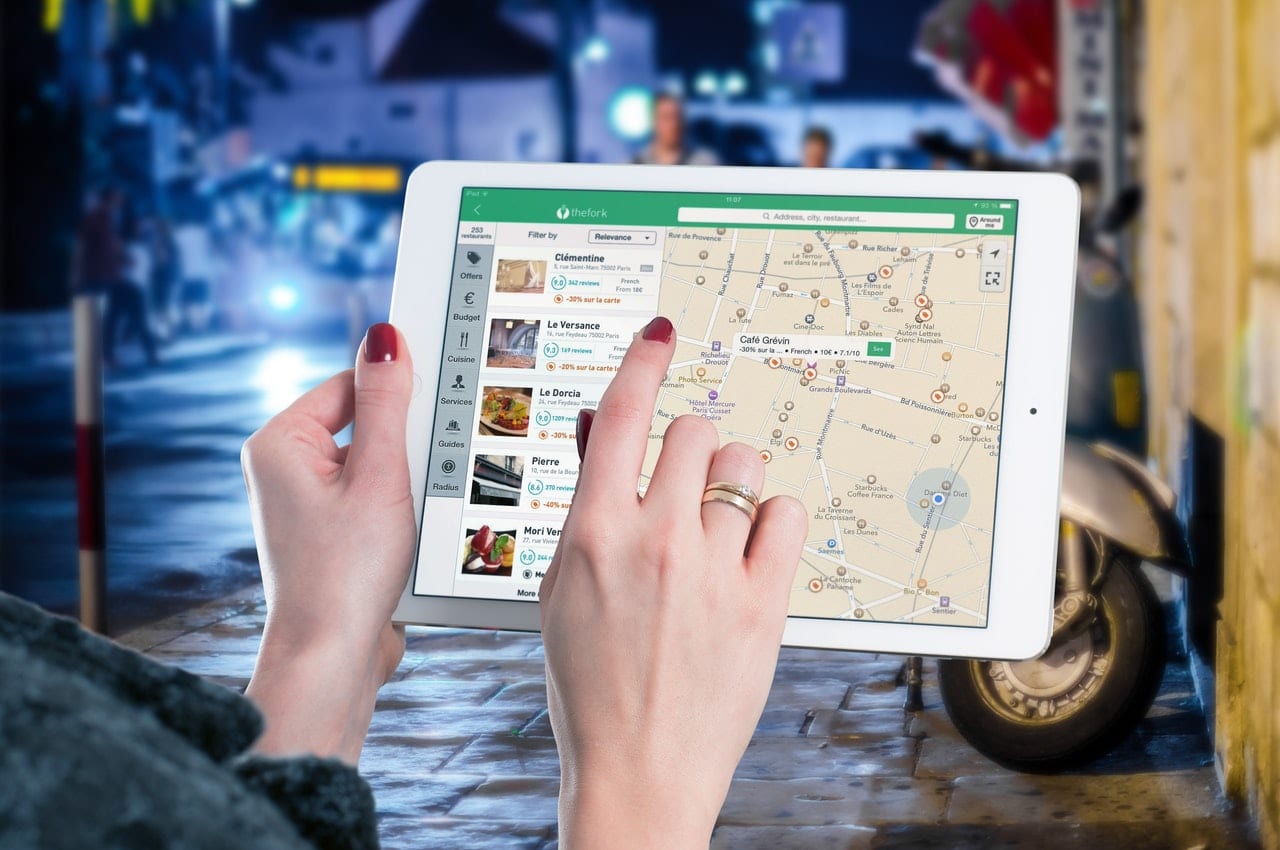 What is Local SEO?
Local SEO is a branch of SEO (Search Engine Optimization). SEO increases the visibility of your website on search engines by making your website rank for relevant keywords. Local SEO enables Google to show your business to users who look out for specific services in a particular geographic area utilizing the search queries relevant to your business. At times, Local SEO focuses on enhancing a business's visibility on Google Maps and in the local 3-pack of SERPs (search engine results page).
According to the latest research performed by Access, location matters a lot to local consumers, as more than 92% of consumers travel 20 minutes or less to purchase their daily use necessities. The closer your store is to the consumers, the higher the chances are that they will visit and avail of your services
What are the Benefits of Local SEO?
Improve Visibility in Local Search Results
Approximately 46% of all Google and other similar search engine searches are about finding the local businesses nearby (Source: Go Gulf). And around 72% of those individuals end up visiting the store within five miles to avail the service they were searching for (Source: Hubspot Marketing Statistics). Now for an individual to visit your store, you need to ensure that you rank higher on the Search Engine, especially in the "Google 3 Pack". For instance, if you are ranking in the second position, you will get 18% of visitors, while the business ranking on number 1 will get 33%. With every position drop, your number of visitors will decrease drastically and hence the revenue generation.
You can not identify the real way to get on pack 3, but you can enhance your ranking by taking care of on-page signals, NAP consistency (name, address, phone number), keywords, website speed optimization, and domain authority. You must make sure that your name, address, and contact details are accurate and up to date, or else Google will oversee your business and move on to the other one.
Beneficial For Your Customers
In earlier days, individuals used to impress customers by decorating their business place in the best possible way. But nowadays, individuals often visit websites first, then only they will visit your physical store. So to get clients, you need to ensure that your website is desktop as well as mobile-friendly. It has easy navigation and complete detail about your business, location, contact details, the services you offer, and their respective prices.
Approximately 71% of individuals confirm the location of the business before visiting it for the first time. Additionally, 33% of individuals search for the location through a smartphone just before visiting a store. Not only this, but 68% of customers see directions or call the store through the Google My Business page. Therefore you must include a complete address and contact details on your website to get more local customers.
Fewer Competitors
By using the strategy of local SEO, you will have fewer competitors. For example, if someone searches "salon" on Google, the search engine will show many results, including the definition of the "salon." But if an individual searches "salon in Durham" or even more specific "hair salon in Chapel Hill," the results will be more specific and relevant.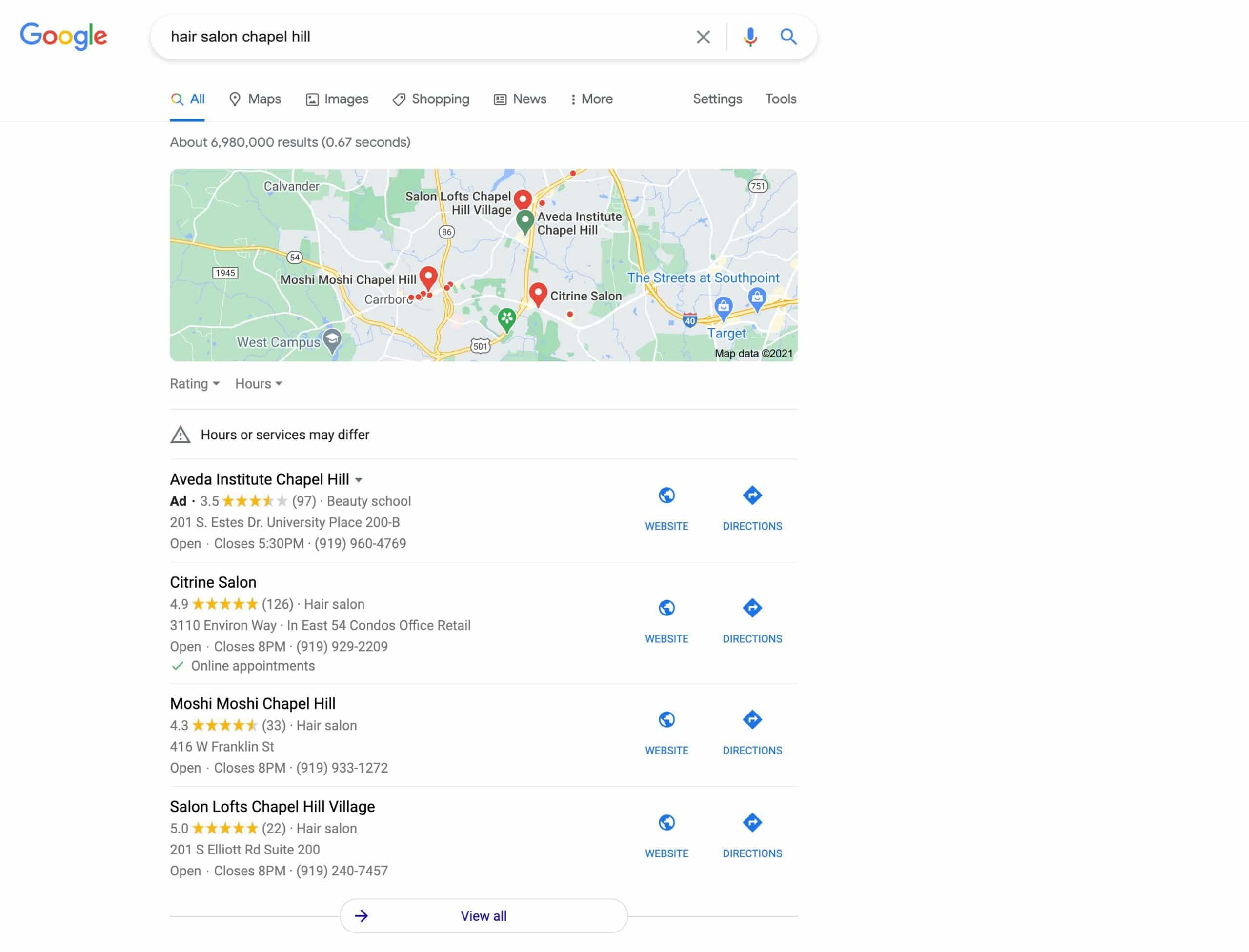 Google My Business Tool Attracts More Customers
According to Google, businesses that verify their location and other Google My Business Information are twice as likely to be considered more reputable. Google My Business tool is a very useful way to showcase important information about your business. And it is FREE. You can classify your shop or store to a certain business category; you can mention opening and closing hours, you can mention contact number and web address. To further enhance your business's online visibility respond to reviews published by your customers, add pictures, share the latest news, offers, and deals, and answer all the individuals' queries. Doing so will improve your online presence and help your business rank higher on the search results.
Improve Conversion Rates
It is essential to maintain a consistent website and has up-to-date information to improve the conversion rate as around 78% of the local mobile users make their purchase either online or in-store. By implying local SEO strategies, you will increase your chances to get a competitive advantage. For example, if someone is new in town who knows nothing about the town and searches for restaurants nearby, and if your business has a Google Business Listing and your competitor does not, the user will see information about your restaurant and more likely will visit your place and not the competitor's place.
92.7% of businesses have increased their lead generation by using inbound marketing and local SEO strategies, while 42.2% of businesses have turned this lead generation to scale conversion rate using inbound marketing. All it takes for a business to succeed and attract clients is to take the right step in the right direction.
Local SEO Conclusion
Using the strategy of Local SEO will help you develop your business's online presence and attract more customers to your business. You can implement these strategies on your own or hire a reputable local SEO agency who will look after your website and be responsible for improving your website's ranking on search engines. It isn't easy to understand how Google works, and not every business person knows everything about SEO and how to implement them in the right way. Therefore the most fruitful way is to hire a local SEO agency that will listen to your queries and analyze your business to improve your website according to your goals and requirements.
If you need web design or SEO services, get in touch with us today. CH Web Agency offers its customers the following services: digital and SEO strategy, brand development, website design and development as well as content creation, Shopify websites, and WordPress websites.